Landlord & Tenant Attorneys Serving New Jersey
In New Jersey and elsewhere, the lease agreement between a landlord and a tenant defines each party's duties and obligations, but the substantive property rights of a landlord and tenant are more complex than the contractual terms and conditions in that agreement. Because of that complexity, disputes between a landlord and a tenant often proceed in ways that are very different from a standard contractual dispute.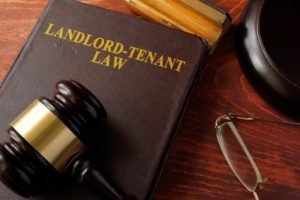 The Greenblatt, Lieberman, Richards, & Weishoff, LLC landlord tenant attorneys in Gloucester Township, NJ and Cherry Hill collectively have more than 50 years of experience in representing and protecting the respective rights of landlords and tenants. We appreciate that many landlords are small business owners who deserve to receive a fair return on their investments after devoting a portion of their life savings into their properties. We also believe that tenants deserve to be treated with respect and to receive safe and habitable accommodations in exchange for their rent payments. These principles guide our advice and legal counsel on landlord tenant matters, including all matters involving residential, commercial, and private properties. Our experience and quality has made us landlord tenant attorneys Cherry Hill, NJ and Gloucester Township rely on.
Retain a Landlord Tenant Attorney Who Understands the Rights of Both Property Owners and Tenants
Evictions and habitability hearings are common matters among New Jersey landlord tenant attorneys. Renters and property owners will enjoy more equitable solutions to problems when their legal counsel has broad experience in landlord tenant issues, including:
Negotiating and drafting leases in ways that reduce or eliminate ambiguities concerning the rights and responsibilities of both parties
Managing alternative dispute resolution processes and arbitration of lease issues
Resolving rent payment and nonpayment problems
Stopping harassment from landlords and property management companies
Addressing breaches of lease terms and conditions by tenants
Preventing hazardous or illegal uses of leased properties
Understanding the critical differences between commercial and residential leases
Drafting "rent-to-own" and other hybrid lease documents
Collecting past-due rent payments from dilatory tenants
Handling disputes over security deposits, and verifying the proper application of security deposit funds at the end of a lease
Initiating evictions proceedings
How a Landlord Tenant Attorney Protects a Property Owner's Rights
Landlords have several rights under New Jersey law, including the right to increase the rent upon renewal of a lease if the rent increase is not prohibited by a local municipality.  Nonetheless, New Jersey continues to be one of the most pro-tenant states in the US. The State's Anti-Eviction Act, Landlord Registration Act, and Security Deposit Act are just a few of the laws that landlords need to comply with to protect their interests. If they violate relevant New Jersey statutes, they could be liable for thousands of dollars in fines.
For example, improperly drafted leases that omit critical statutory language may be subject to nullification which could eliminate a landlord's right to recover attorneys' fees from a tenant that is in default of lease terms and conditions. In all cases, a landlord tenant attorney in Gloucester Township, NJ who has extensive knowledge of both State and Federal law is a landlord's best resource for raising and defending landlord tenant issues in New Jersey courts.
How a Landlord Tenant Attorney Protects a Tenant's Rights
In exchange for timely rent payments, tenants have a legal right to safe and habitable housing. Landlords may not wrongfully enter the premises of a tenant through any active or passive efforts that would interfere with the tenant's right to quiet enjoyment of the property. Tenants have certain rights regarding eviction, particularly around the issue of Notice. Landlords may not change locks or cut off utilities simply because an eviction has been filed. Tenants also have the right to withhold rent if there is a hazardous condition, a health issue, or a critical requested repair that a landlord fails to complete.
In many landlord tenants disputes where tenants prevail, attorney fees often must be paid to the tenant. New Jersey tenants whose rights are being violated by a landlord do not have to suffer such injustices or live in substandard housing conditions. Rather, they should retain an experienced landlord tenant lawyer in Cherry Hill, NJ and Gloucester Township to ensure the protection of their rights.
Landlord Tenant Law is What We Do
As part of our complete slate of landlord tenant legal services, the attorneys at Greenblatt, Lieberman, Richards, & Weishoff, LLC have filed and defended tens of thousands of evictions and habitability hearings.  We are dedicated to achieving optimum results for all parties within the structures provided by New Jersey landlord tenant law and the broader property concepts that permeate landlord tenant relationships.