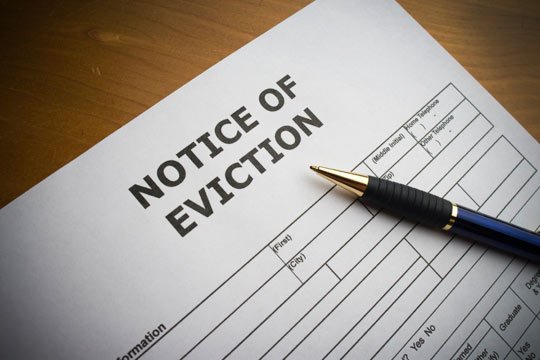 10 Dec

What is the tenant eviction process in New Jersey?
What is the tenant eviction process in New Jersey?
Are you a tenant who is being evicted or a landlord doing the evicting, and you want to make sure that your rights are protected and not violated?  Weishoff & Richards, LLC can help both tenants and landlords. We have had many cases and clients, representing both the owners of property and the people who rent from them. We will be involved in eviction proceedings and ensure that your rights will be preserved and protected. The law firm of Weishoff and Richards, LLC has provided eviction and landlord/tenant services for more than five decades.
What are some reasons I can evict a tenant?
To evict a tenant, a landlord must follow specific rules and procedures. In New Jersey, a landlord must have one of several "good cause" reasons to evict a tenant. Not every tenant pays on time, follows rules and is a good neighbor. Many cause problem and damages and break rules. There are some situations where it's necessary to evict a tenant in New Jersey. Some of these lawful reasons include:
illicit drug use
property damage
non-payment of rent
squatters
skipped required water/electrical payments
unauthorized pets
safety violations.
disturbing the peace of other tenants
Violation of the landlord's rules
theft of property
disorderly conduct
assaults or threats against the landlord
The Eviction Timeline? How Long Does It Take to Evict a Tenant in NJ
The eviction process is rarely easy or quick. Renting out properties can be costly and not all renters are well-behaved, pay on time, or follow the terms of the lease. If you are a landlord, and you find yourself having to evict a tenant, you may find yourself wondering how to go about that, and how it takes to evict a tenant in NJ. Unfortunately, the eviction process doesn't always go smoothly. Some of the determining factors are the reason for the eviction, the type of rental unit involved, the number of notices that have been sent. In many cases, it helps to make renters aware they could be held responsible for legal expenses if the eviction process has to go to court.
New Jersey Eviction Forms
When a landlord is ready to evict a tenant, they use a NJ Eviction Notice. They provide the tenant with this notice to give them a chance to either rectify the situation or prepare to find a new place to live. After the notice has been given, if things are not rectified, the landlord can take it to court and file a complaint and summons, and have the court issue a Warrant for Removal.
Where Can I Learn More about Protecting Tenants' Rights in Eviction Proceedings
If you are a landlord in New Jersey and need legal help with an eviction case, contact us. It is important to know what rights you have in New Jersey if you want to start the eviction process. We have many experienced lawyers that can help you navigate your eviction case.
Attorneys Robert P. Weishoff and Travis J. Richards, Esquire, are here to help you get the results you deserve! Call Weishoff and Richards, LLC at (609) 267-1301 to set up a consultation today. Visit our website for great blog post tips on topics like estate planning and tax savings, and the most up-to-date information on legal statue changes! Or contact us here.